Chris Hunter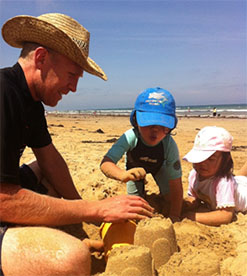 Director
Taxation, business advisory & management accounting services
Chris has been an accounting and business advisory professional for over 15 years. He has worked with a multitude of businesses across a range of industries. Chris worked previously with a national top 5 firm and smaller regional accounting practices, before founding CGH Accounting Services in 2012.
Drawing on his extensive knowledge and experience, Chris works with clients to manage both the operational and strategic components of their businesses. Chris carefully analyses the financial and functional structure of organisations, in order to gain a thorough understanding of their enterprises. Chris employs practical know-how and lateral thinking to develop the best strategies to address accounting & compliance issues – to ultimately enhance business performance.
Chris prioritises clear and consistent communication. He responds swiftly and decisively to each and every client; whether individual, small or medium sized companies. Chris provides a broad range of business advisory services including, but not limited to: taxation & compliance, management advice & consulting, general business counsel and strategic planning consulting.
Outside of work, Chris contributes his expertise as a board member and treasurer for his local cricket club. He enjoys spending time with his family and friends, especially down the coast, after working at the Torquay office!
Expertise and Specialisation
business advisory and taxation services
property investment
small and medium enterprises (SMEs)
debt issues
Qualifications and Memberships
Bachelor of Business, Monash University
Bachelor of Arts, Monash University
Post Graduate Diploma (Accounting), Monash University
See my profile in:


Jason Wight
Director
Superannuation, taxation & business advisory services
Jason has been with CGH Accounting since 2012. He is a highly experienced and credentialed CPA accountant. For over 20 years Jason has delivered specialist advice around business & taxation issues and Self-Managed Super Funds. He has worked across several industry sectors with clients ranging in size, complexity and structure.
Jason has a hands-on approach, develops solid relationships with clients and works closely with them to achieve optimal personal and business outcomes.
Jason is recognised as an extremely personable and passionate practitioner. He is committed to intelligently developing and improving the financial affairs of individuals and businesses. Jason delivers results which are measurable and maximise business profitability. He works closely with financial advisors to ensure ideal wealth management for clients.
Jason is community minded and volunteers his expertise as Treasurer at his local Primary School Board and Tennis Club.
Expertise and Specialisation
business advisory and taxation services
superannuation and SMSFs
professional services
family-owned businesses
Qualifications and Memberships
Bachelor of Business, Monash University
CPA